Partners Involved
Climate Analytics, European Commission, FAO, Germany (through GIZ), GGGI, IFAD, IRENA, SIDA, SNV, UNCDF, UNDP, UNEP, and the World Bank
As part of the Partnership Plan, 17 projects related to renewable energy are being implemented through a public-private partnership
Burkina Faso joined the NDC Partnership in 2018, and since that time has been working with partners to prioritize the mainstreaming gender into its NDC and strengthening its MRV framework across all sectors.
The country is highly dependent on natural resources, and therefore much of the focus has been on rural development, notably in the forestry, agriculture, and livestock sectors. These priority areas, along with concerted gender and youth inclusion efforts, represent the keys to unlocking Burkina Faso's sustainable development potential and the ability to meet or exceed its climate targets.
Climate Action in the COVID-19 Context
Despite the COVID-19 pandemic, the government has demonstrated a strong commitment to combatting climate change through a series of actions and plans and by engaging local communities and women.
Targeted yet comprehensive mitigation efforts
Reducing Greenhouse gases in Burkina Faso is primarily concentrated in the energy, forestry, agriculture, transport, and environmental sectors. In energy, and as part of the Partnership Plan, 17 projects related to renewable energy are being implemented through a public-private partnership. These projects are translating the political will to the adoption of a national renewable energy policy. Concurrently, in late 2020, two major solar power plants began construction, some of the largest of their kind in West Africa, with World Bank support. IRENA is working with the government to revise the NDC energy component, to help build capacity for energy planning, and to develop long-term climate-friendly sectoral roadmaps.
In terms of agriculture, an assessment of GHG reductions in the sector was completed during a study of the country's NDC implementation status, however there are ongoing activities related to initiatives concerned with AFOLU. In transport, a pilot project is underway to explore green heavy vehicle options. This pilot is part of a program to modernize the transport sector in Burkina Faso. Lastly, six projects related to the reduction of emissions through sustainable and decentralized forest management and the restoration of degraded land are being implemented.
Spotlight: Land-use and Rural Development in Burkina Faso
Being one of the world's most rural countries, much of Burkina Faso's climate-related efforts are concentrated in the rural sector. Therefore, two comprehensive projects in that area are useful barometers of Burkina Faso's progress.
One such initiative, the Neer-Tamba Project, focuses on rural development and sustainable land management. Supported in part by GEF and IFAD, the project contains mitigation and adaptation measures, as well as, among other things, gender inclusion targets and capacity building and trainings.
There has been a lot of activities related to this project. For example, thus far, the number of micro-projects funded for the sustainable use of non-timber forest products (NTFP) has increased to 614 (out of a target of 900), 222 of which have renewable energy options, far exceeding the goal of 120. These projects support sustainable economic activity in the area, including green jobs and green supply chains. There has been a lot of focus on carbon emissions as well. Through various interventions, including NTFP and other sustainable agricultural practices, the Neer-Tamba Project has helped either reduce or avoid emissions by roughly 1.5 MtCO2e, equaling 10.7 percent of Burkina Faso's NDC. On the gender and inclusion front, of the NTFP projects, there is a female participation rate of 93 percent.
The other notable initiative is the Weoog Paani project, which supports local forest management, climate resilience, and preserving biodiversity. Despite the COVID-19 pandemic, a substantial amount of progress was made last year. For example, 893 ha of degraded land were recovered—against a forecast of 800 ha—which mobilized, engaged, and/or employed a total of 21,672 people, of which 18,162 were women. Reforestation efforts realized the planting of some 739,000 trees of local species, surpassing a target of 631,000. There was also the construction and distribution of 53,500 sustainable, fuel-efficient cookstove units, also breaking its target of 37,000 units and improving the livelihoods of more than 20,000 households, most of which consist of women and young people.
An inclusive approach to climate change adaptation
Adaptation efforts in Burkina Faso have generally focused on the environmental, energy, agriculture, and water and sanitation, livestock, habitat and infrastructures, as well as in gender inclusivity and disaster risk reduction.
The environmental sector is an umbrella sector, and there are 15 projects under implementation, several which are still awaiting financing, although prospects are positive. In this space, the United Nations Capital Development Fund (UNCDF) is working to fund capacity-building initiatives related to Burkina Faso's NDC, particularly in supporting NDC integration in local development plans. Likewise, the European Union began, in late 2020, investing in a multi-sectoral project in rural areas to, in part, help rehabilitate at least 1,000 hectares of forest.
The agriculture sector has also received a considerable amount of attention. There are 19 projects being implemented in this field by the Ministry of Agriculture. As this sector relates to the Partnership Plan, the aforementioned project with the EU will pursue activities to strengthen rural populations' resilience with regard to climate change by improving agricultural productivity and support agricultural technologies in areas where women traditionally work. Additionally, the EU is involved in multiple restoration and irrigation projects to bolster climate-resiliency.
In the water and sanitation sector, seven projects are in process and awaiting financing. SIDA aims to work on hygiene and sanitation in the country's North, Center-North and Center-South Regions in addition to supporting the government's Integrated Water Resources Management Programme.
Lastly, a lot of work is being done on gender and disaster risk reduction. The government, working with UNCDF and other partners, including the West African Development Bank, are addressing the inclusion of women in adaptation efforts, primarily via disseminating best practices to local leaders and the production of radio broadcasts on best practices to local populations, and the production of a feasibility study on possible insurance options for low-income communities.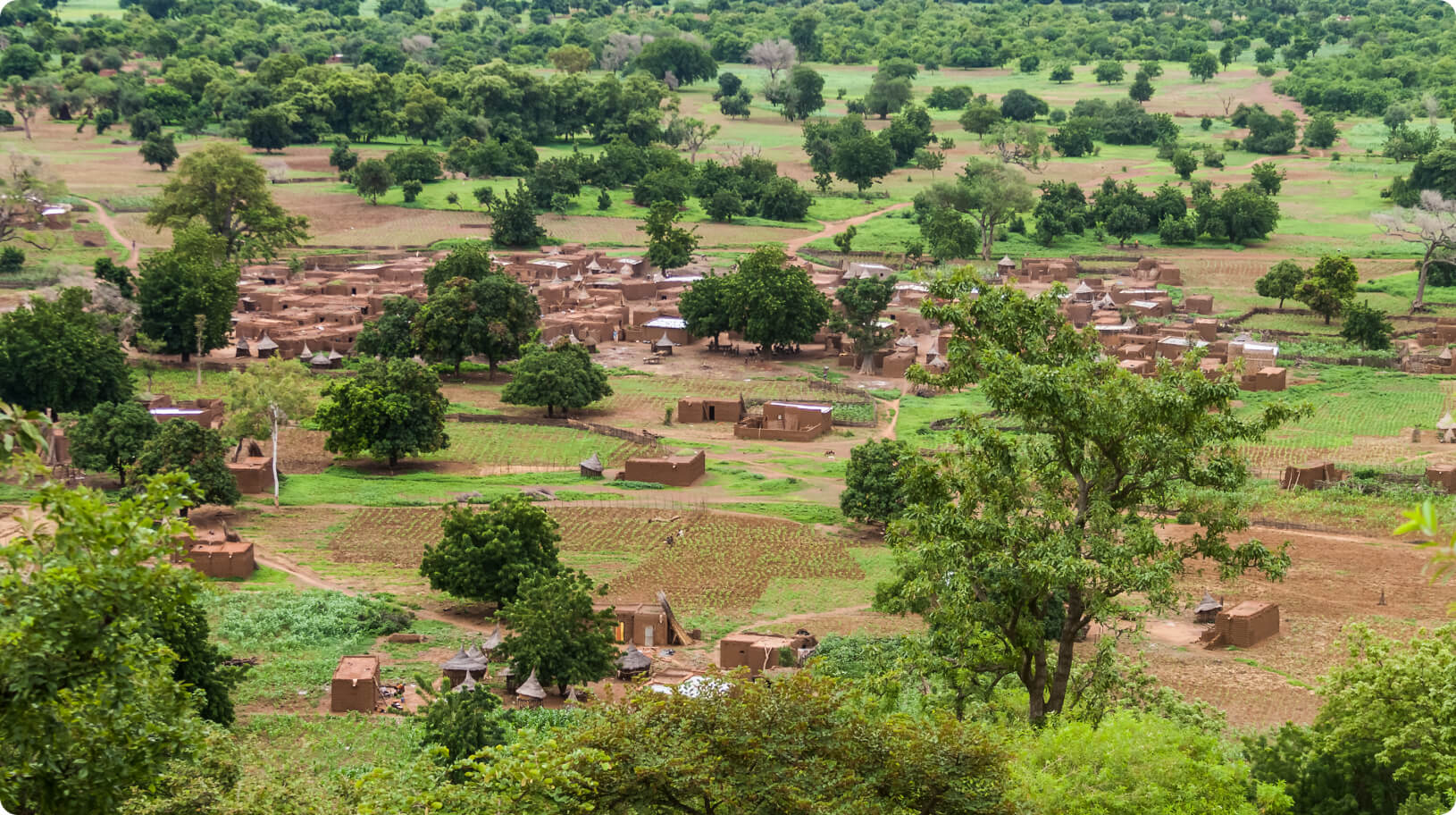 MRV Systems Progress
All this progress must be captured and evaluated so that Burkina Faso can then, in turn, further strengthen its sustainable development path and social inclusion efforts. To that end, much has been done recently about strengthening Burkina Faso's MRV systems to enhance oversight of NDC implementation effort progress. The NDC Partnership has matched relevant Partners to a vast array of sectors and counterparts in the government for MRV system improvements. For instance, the World Bank has been providing technical assistance to experts to develop a GHG inventory in the livestock and managed agricultural soils sectors. When fully implemented, emissions data will be collected from agricultural activities surrounding enteric fermentation, manure management, biomass burning, managed soils, and existing cropland. This data will then be integrated with other MRV efforts to comprise a single AFOLU (agriculture, forestry and other land use) MRV system. The AFOLU system as well as the waste sector MRV will be validated by UNEP.
In the electricity sector, IRENA has been conducting technical analyses and capacity building on modelling the national electricity system. More broadly, the Global Green Growth Institute (GGGI), with funding from Sweden (SIDA), is supporting the implementation of an MRV system in the energy and industrial process and product use sectors.
The end results and goals of MRV progress is, through transparency and results, to improve access to climate finance, whether via external financial institutions or through eventually generating carbon credits from certain projects to scale them up to become larger initiatives, which can then create a virtuous circle of financed projects that contribute to lower global carbon emissions.
Mainstreaming Gender in the NDC Enhancement Process
Through CAEP and with GGGI support, Burkina Faso has approved sectoral action plans that aim to mitigate negative climate impacts and support positive change for women and men across different social groups. Sectoral plans revolve around three main themes: strengthening adaptive capacities and resilience; reducing GHG emissions in the sector; and strengthening gender equity in addressing climate change. The sector ministries tasked with implementation have committed to three essential activities that advance gender equality: producing data and generating analysis on gender and climate change within the sector; supporting capacity building on gender and climate change; and mainstreaming gender equality into climate projects and programs in each sector. Thus far, ten sectoral plans include strong gender mainstreaming elements.