Partners Involved
AfDB, Austria, Conservation International EMLI, European Union, FAO, France, Germany, GGGI, ICLEI Local Government for Sustainability, IISD - NAP GN, IRENA, IUCN, Netherlands, Red Cross Red Crescent Climate Center, Sweden, UNCFD, UNDP, UNEP, UNFCCC RCC, the World Bank, WRI
Uganda is championing a whole-of-government-and-society approach to deliver green growth and adapt to a changing climate. The government is mainstreaming climate change considerations across sectoral, national, and local policies, plans, and budgets with finance and technical assistance mobilized by the NDC Partnership.
Uganda's agriculture-based economy faces an existential threat from climate change and the country's development blueprint, Vision 2040, is based on principles of green growth, environmental sustainability, resource efficiency, and climate resilience. In 2018, the government launched Africa's first NDC Partnership Plan, which sets near-term goals that support Vision 2040, the Uganda Green Growth Development Strategy (UGGDS), and related national strategies. The UGGDS alone is expected to boost GDP by 10 percent, create four million jobs, and cut emissions by 28 percent.
Since 2018, 21 NDC Partnership members have committed USD24 million to turn the Partnership Plan into action. Support includes technical assistance for climate policy, budgeting, training, and action, and financing for flagship projects in key sectors and vulnerable regions. The Partnership also assisted in Uganda's groundbreaking National Climate Change Bill, 2020. This will enshrine in law the country's commitments under the UN Framework Convention on Climate Change and Paris Agreement including its pending NDC update which will contain ambitious new targets and plans.
Modeling whole-of government Climate Action
Uganda, a country where two in every three people rely on agriculture, faces an existential threat from climate change. In response, the government is pioneering a whole-of-government-and-society approach to mitigation and adaptation that mobilizes all key players. Despite having one of the world's lowest per capita emissions of greenhouse gases, Uganda set a goal under the Paris Agreement to cut national emissions by 22 percent in 2030 compared to business-as-usual. The NDC Partnership provides wide-ranging support for the government's ongoing efforts to mainstream climate change responses across sectoral, national, and local policies, plans, and budgets.
This bold approach is embedded in a series of transformative policies and strategies (see table), beginning with the National Climate Change Policy in 2015. These provide a roadmap for inclusive, climate-resilient and low-emission development, with support and engagement from the public and private sector, civil society, and development partners. The 2020 Climate Change Bill will add impetus by strengthening climate action mandates and institutional arrangements to coordinate, supervise, regulate, and manage all climate actions as well as provide for climate financing.
Uganda's efforts to address its changing climate and implement its NDC, depend on international finance, with 70 percent of NDC-related costs by 2030 assumed to come from such sources. The NDC Partnership has been a major catalyst in raising these funds, mobilizing more than USD24 million to date in new support from 21 partners.
The Partnership's impact across all aspects of the country's climate-related activity, including on-the-ground programs in key sectors such as land use, forestry, water, and energy, is detailed below.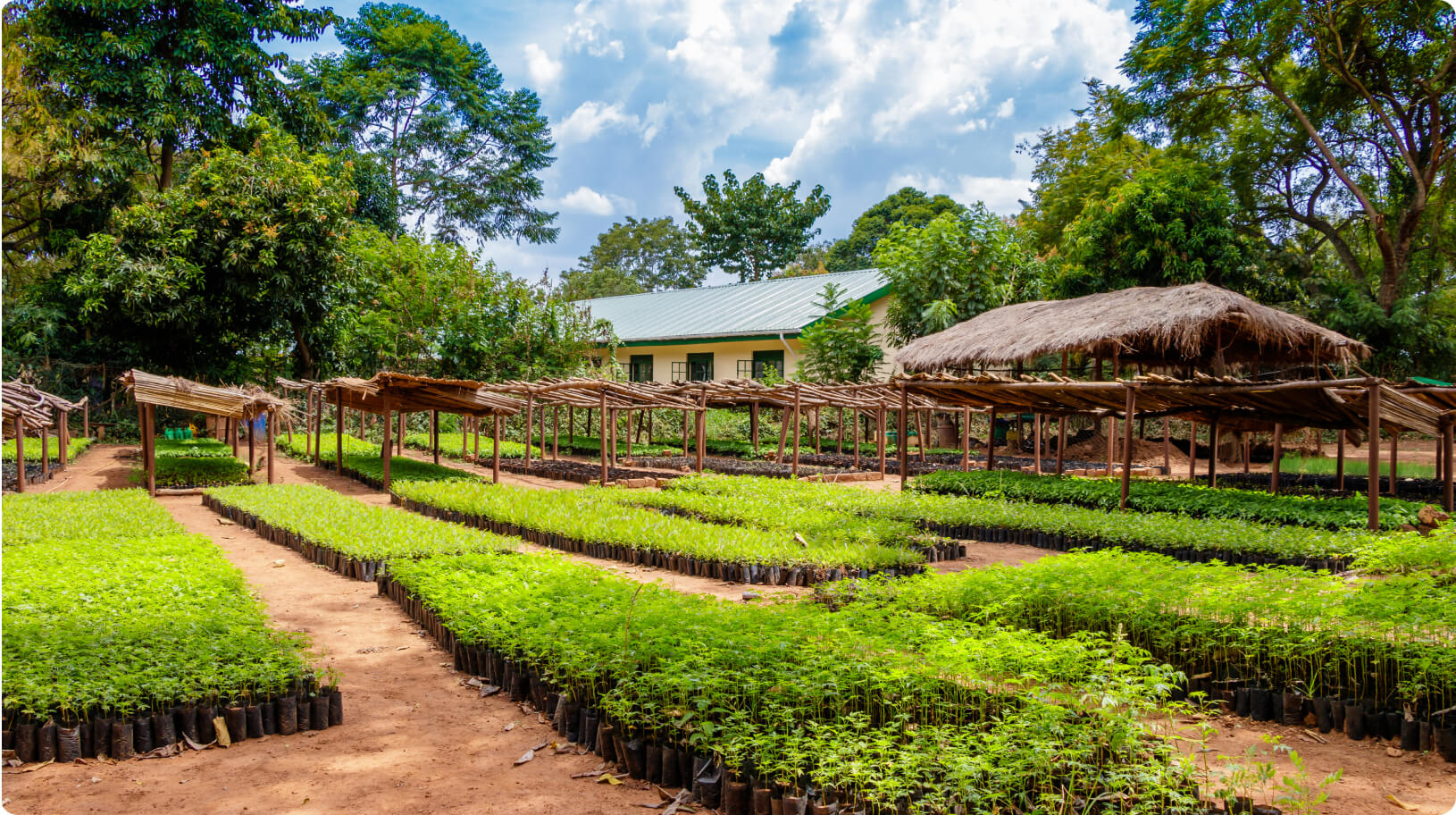 Uganda's Development and Climate Roadmap
Uganda's NDC Partnership Plan aligns with and supports actions to realize the following framework for low-carbon and climate-resilient economic growth and development.
Uganda Vision 2040
National Development Plan [NDP II (2016-2020) and III (2021-2025)],
Uganda Green Growth Development Strategy (2017/18-2030/31)
National Climate Change Bill, 2020 (approved by Parliament in April 2021 and awaiting President's signature)
National Climate Change Policy (2015)
Nationally Determined Contributions (2015)
Uganda REDD+ Strategy and Action Plan (2017-2042)
Strategic Program for Climate Resilience
Other national sectoral policies
NDC Partnership Plan Overview and Outcomes
Since 2018, the NDC Partnership has worked hand in hand with key personnel in Uganda's Ministry of Water and Environment/Climate Change Department, Ministry of Finance Planning and Economic Development, and the National Planning Authority to help turn climate commitments into action. NDC priorities are mainstreamed into Vision 2040, the UGGDS, and other national development policies.
In June 2018, Uganda launched Africa's first NDC Partnership Plan. Covering 2018-2020, the Partnership Plan laid out near-term NDC priorities and catalyzed whole-of-government approaches to project preparation, climate budget tracking and reporting, and climate legislation. Strategically, the plan sought to achieve five key outcomes while helping Uganda accelerate NDC implementation:
Strengthening gender-responsive policies and institutional frameworks for effective climate governance
Increasing finance allocated for climate action in national and local planning and budgets
Institutionalizing a Monitoring, Reporting, and Verification (MRV) system for GHG emissions and gender-responsive adaptation actions
Boosting the capacity of public, private, and non-state actors to effectively integrate Uganda's NDC and SDG commitments with a gender lens
Accelerating project financing for NDC implementation
Embedding Climate Action in Development Plans and Budgets
The NDC Partnership is driving efforts to mainstream climate action into national development policy. Key ministries, led by the Ministry of Water and Environment (MWE), National Planning Authority, and the Ministry of Finance Planning and Economic Development (MoFPED), use the Partnership Plan to identify priorities for NDC implementation and align climate action with national planning and budgeting. Climate change has been mainstreamed into Uganda's National Development Plan (NDP) III with WRI, FAO, and GIZ support.
Mobilizing Climate Finance and Supporting Flagship Projects
Uganda is mobilizing investment from Partnership members to turn its ambitious climate policies and institutional frameworks into on-the-ground action. To date, the EU, the Netherlands, and GIZ have earmarked USD16.8 million to bankroll flagship projects in key sectors and vulnerable regions.
A pipeline of 20 new projects is underway at different stages of development, with partners spanning government, development institutions, the private sector, and civil society.
The Partnership coordinates with MoFPED, the National Planning Authority, and other agencies to develop finance-ready climate mitigation and adaptation projects. Technical assistance is provided by partners including the Netherlands, the AfDB/Africa NDC Hub, GGGI, IUCN, and UN Environment. These projects focus on themes including climate-smart agriculture, clean transport, land use, and water management.
Raising Climate Ambition
Uganda is updating its NDC with new targets and plans. The Partnership supports this important next step through CAEP, facilitating an inclusive nationwide process that has brought together more than 500 stakeholders. GIZ and UNDP have also provided technical support to help the government set new targets based on resource consumption and production, bringing a circular economy approach to climate commitments. As a result, Uganda has raised its ambition by adding more sectors, including industry, waste, and transport, and by setting sectoral emission targets.
Uganda is using the revision process to build national capacity and expertise in the climate arena. The Partnership is providing Red Cross Climate Center support to train regional officials, non-state actors, and high-level policy makers on conducting climate risk and vulnerability assessments. The government has also coupled its NDC update with development of a Long-Term Low Emissions Development Strategy (LT LEDS) in collaboration with GIZ, which will set 2050 climate targets.
Moving Forward
The NDC Partnership has mobilized more than USD24 million to put Uganda's climate commitments into action. In a coordinated effort with Partnership members, Uganda has made impressive progress on implementing its NDC since 2017. The country is now poised to pursue full NDC implementation by developing and financing more projects that are gender responsive, climate-resilient, and foster low emissions development, as well as operationalizing national climate legislation.